Star Tower Hanoi is a combination of offices and apartments for rent in Cau Giay District, Hanoi, it is located on Duong Dinh Nghe street – Cau Giay district – one of the convenient transportation locations. Star Tower Duong Dinh Nghe is invested by CFTD – VLA Building Joint Stock Company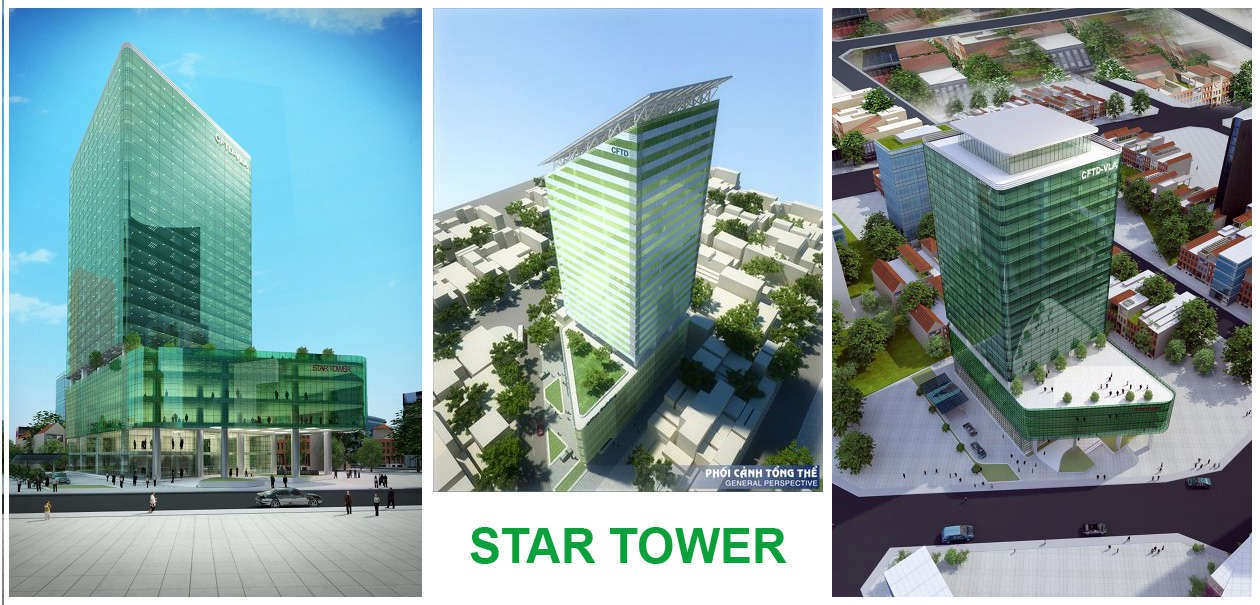 Location & advantages of Star Tower
The building has a convenient traffic position, from where it can be easily moved to major streets such as Tran Duy Hung, Pham Hung, Tran Thai Tong, Me Tri, Lang, Nguyen Chi Thanh … with traffic 2 Afternoon ventilation.
The building is located in Cau Giay District, Hanoi, where many office buildings gather, a combination of utility services. The region also has full banks and state administrative areas to meet transaction and payment needs.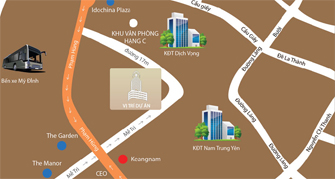 Design & Scale of the building
With a design of 25 functional floors and 2 basements, Star Tower Hanoi is a high-class office and apartment complex with many outstanding advantages in terms of construction quality and service quality.
From floors 7-25 is an office space for rent flexible design, the area for rent is subdivided into categories from 80 m2, 97m2, 100 m2, 125m2,129m2, 120m2, 133m2, 144m2, 155 m2, 200 m2, suitable for many different tenants with the use purpose, the budget of each customer.
With intelligent design, wide vision, making the most of natural light, saving energy costs.
The first floor is designed with large and airy space with lien tan area, common living area, utility store, coffee shop, meeting the needs of rest and dining of residents as well as to receive guests…
7th floor is a utility area with a gym, pool, sauna, jacuzzi, restaurant, bar – coffee …
The automatic parking system of Japan, increasing the capacity to 2 times with the total parking space reaching nearly 200 seats.
The attic floor is a combination of function rooms including common meeting rooms and other utility rooms.
Utility services at Star Tower
4 high-speed elevators are regularly maintained and maintained to facilitate movement in the building.
The system of semi-central air conditioning, adjusting the temperature to each different area, meeting the demand for use, and maximum power savings.
Telecommunications, internet, and television services with high and stable transmission quality meeting the demands of office customers.
Fire protection system automatically, ensuring fire safety of the building.
Surveillance cameras with intelligent installation, with wide sweeping angles, ensure building security.
The receptionist, cleaning staff, security guards work professionally and conscientiously.
See reviews of Offices for Rent in Hanoi
With a prime location, perfect utility services, Star Tower is a living and working place with high quality, suitable for the purpose of renting apartments of many families and singles at home and abroad.
DETAILED LEASE PRICE AND AREA
From 600 -800USD / month for apartment 2 bedroom for rent in star tower
Apartment 3 bedroom for rent in Star tower price from 900-1200$/month
From 1000-1400 USD/month for apartment 4 bedroom for rent in Star tower
All Residential Service Fees of Star Tower Hanoi
Service fee: VND 11,500,000 / sqm / month
Area for rent: flexible from 80sqm
Electricity fee: calculated according to the actual electricity consumption
Parking motorbikes VND 110,000 / vehicle/month
Car park 1,650,000 VND / car / month